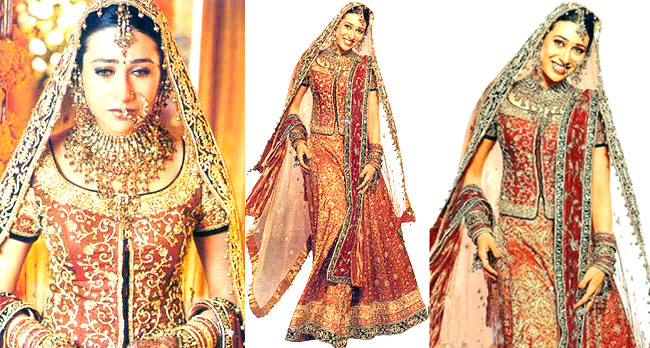 Bollywood Fashion - (Item Code: FG99)
Ghagra, Choli and Two Odhnis - The Perfect Bridal Outfit
Zardosi, Salma, Dabka and Kundan Work On Pure Tissue, Lined With Satin



Purchase Matching Jewellery Set ?


customer comments....."...for the most beautiful wedding outfit. It was an absolute blessing. I had this outfit picked out before I had even found my fiance!!! I owned the DVD and countless pictures on this wedding outfit from the movie......thank-you for my wedding outfit ...I must add....thanks for additional gifts...very unexpected and much appreciated.."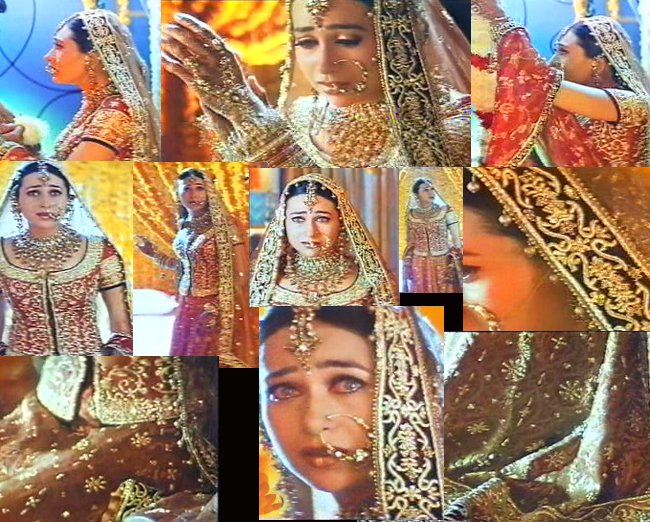 MUST READ - Karisma's original lehenga is made with pure tissue in Rust-Gold Shade - this shade of tissue appears golden under some lights and gives an overall golden hue (as seen below)

Should this shade not suit you, you can certainly have your lehenga made in another shade at no extra cost. The available shades are RUST-GOLD (as in original) / PURE MAROON /PURE RED

Customers MUST mention choice of color when ordering!
If no selection is made, the lehenga will be made in original color of Rust-Gold.

Borders are in BLACK, MAROON and GOLD (BLACK border can be changed to GREEN or any other color on request)