PRESENTING THE FASHIONS OF SPRING STRAIGHT OFF THE RUNWAYS.

COME SPRING THE WORLD WILL LOOK GOOD ENOUGH TO EAT..... AT LEAST THE CLOTHES WILL. ICE-CREAM AND CANDY COLORS THAT MELT IN THE MOUTH, THE RICH HUES OF ART-DECO ARCHITECTURE, INFLUENCES FROM POP ART WILL ALL MAKE A BIG SPLASH. ARM YOUR ARMOIRE WITH ALL THE PEARLS, FLUFF AND PINK YOU CAN FIND. THINK WEDDING CAKE EXCESS, JEWELS OF THE SEA, BOUFANT HAIR AND EVERYTHING DUSTED WITH ICING SUGAR.

SILHOUETTES WILL BE TRADITIONAL. PERFECT SYMMETRY AND COLOR-CODING TAKES THE PLACE OF THIS SEASONS ASSYMETRICAL JAGGED LINES AND CLASHING COLORS. THE SEASON OF LOVE INSPIRES THE FASHION-WORLD TO PULL OUT ALL THE STOPS IN SWEET SEDUCTIVE TACTILE GARMENTS.

EVEN THE SUITS ARE TURNING TO SILK, SATIN AND FLOWING CHIFFON. DRESSING-DOWN WILL NO LONGER BE CHIC. SILKY SATIN, GLEAMING PEARLS, LUXURIOUS BROCADE AND SUPERFLUOUS ACCESSORISING WILL ALL BE THE ORDER OF THE DAY. COME CELEBRATE THE SEASON OF LOVE IN STYLE.... AND EMBRACE THE 40'S COY, TONGUE-IN-CHEEK SEXINESS.

HAUTE COUTURE IS USUALLY RESERVED FOR THE VERY WEALTHY. CUSTOM-MADE CLOTHES COME AT A LARGE PRICE IN TODAY'S WORLD.

WE PROVIDE A SERVICE WHERE YOU CAN VIEW AND SELECT THE LATEST HAUTE COUTURE STRAIGHT OFF THE DESIGNERS' RUNWAYS AND HAVE THEM CUSTOM-MADE FOR YOU AT A FRACTION OF THE PRICE.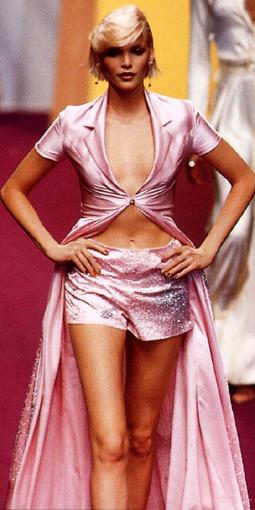 Candy
(Item Code: Hf0045)
Candy-Pink (or Bubblegum Blue) Satin One-Button Full-Length Overcoat Embellished By Hand With Seed-Pearls And Beads Along The Train And Matching Beaded Hot-Pants
US $ 375.00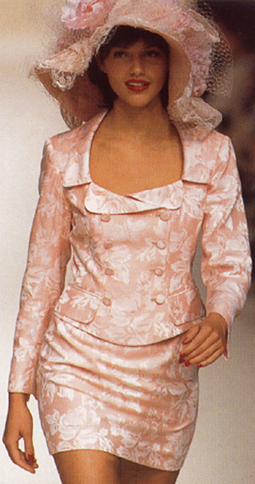 Peachy Keen
(Item Code: Hf0037)
Peach Brocade Skirt-Suit Cut In The Silhouette Of 40's Channel Suits
(skirt and jacket only)
US $ 249.00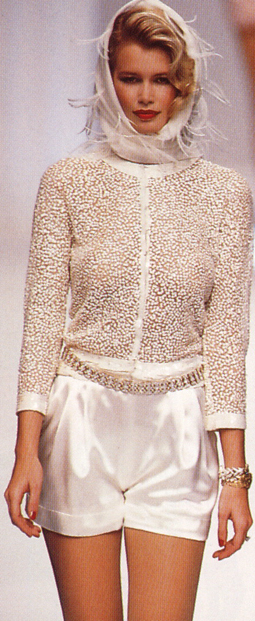 White Candy
(Item Code: Hf0043)
Pearly-White Satin 3/4 Sleeve Beaded Cardigan With Matching Satin Shorts And Chiffon Scarf (belt not included)
US $ 269.00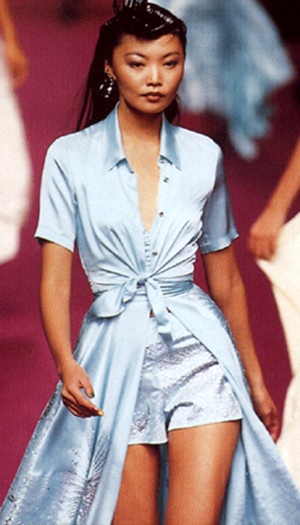 Bubblegum
(Item Code: Hf0046)
Bubble-Gum Blue (or Candy Pink) Satin Belted Full-Length Overcoat Embellished By Hand With Seed-Pearls And Beads Along The Train And Matching Beaded Hot-Pants
US $ 375.00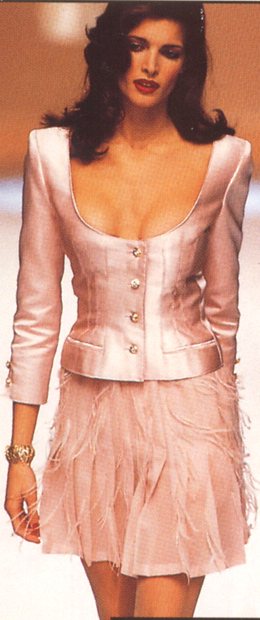 Candy Floss
(Item Code: Hf0005)
Candy Floss Pink Satin Fitted Scoop Neck Jacket With Matching Chiffon Skirt
US $ 229.00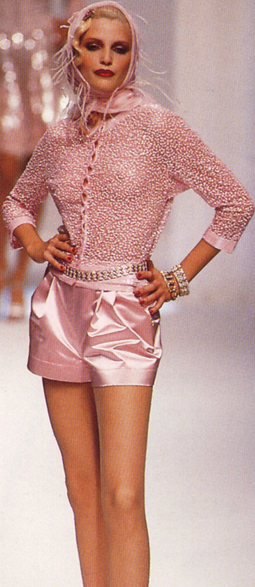 Pink Candy
(Item Code: Hf0044)
Candy Pink Satin 3/4 Sleeve Beaded Cardigan With Matching Satin Shorts And Chiffon Scarf (belt not included)
US $ 269.00




(for quotes on pants/skirt instead of shorts OR separates e-mail now)